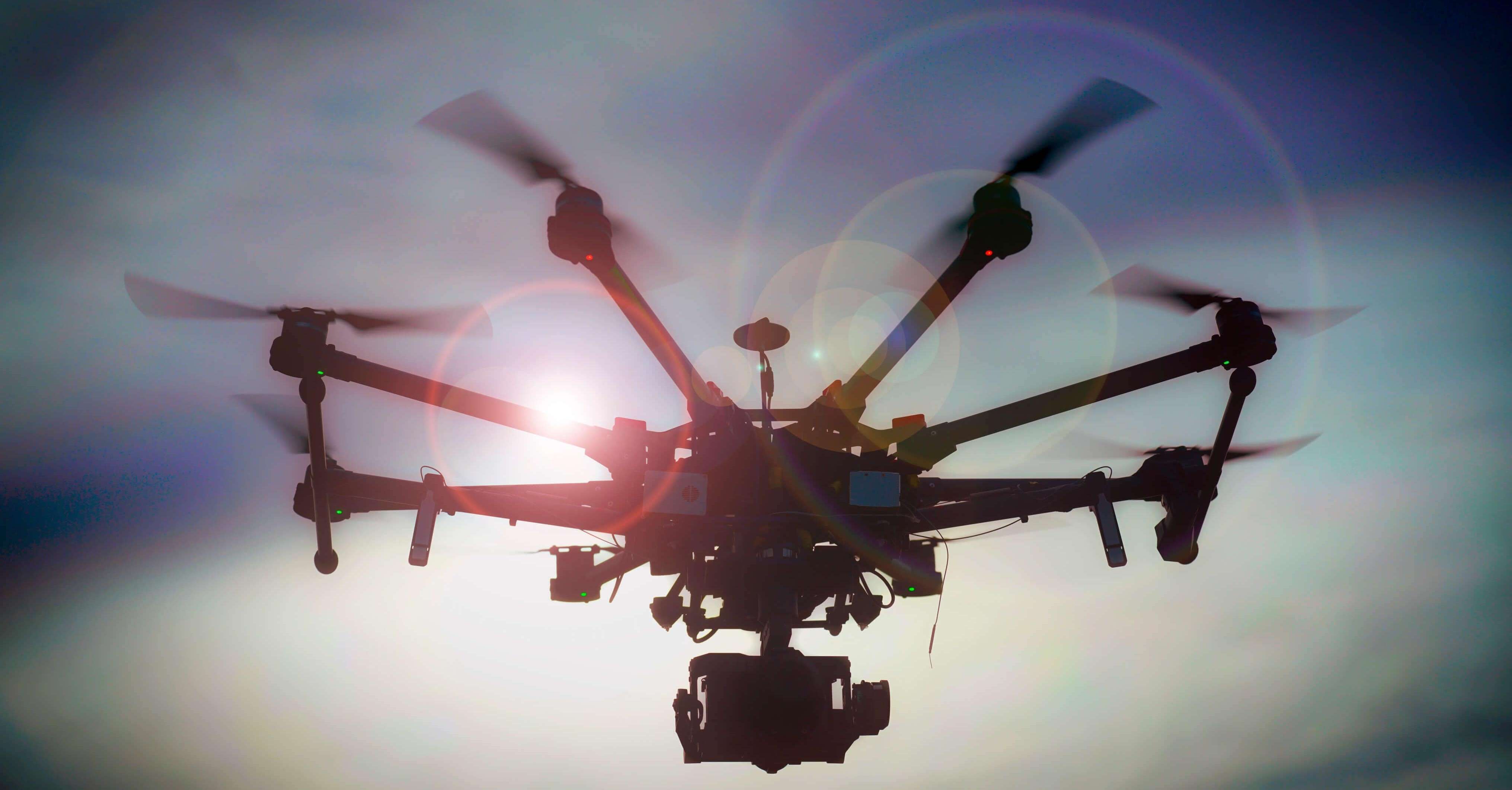 Drone Technology
Top 10 Drones and their Applications in 2020
WHICH IS THE BEST DRONE IN THE CURRENT MARKET?
As the universe begins to orbit around state-of-the-art technology and artificial intelligence, we are undoubtedly propelling towards this adventure together. Whether it's to hop onto the trend or for other distinct purposes, there is no such thing as lacking a reason to buy a drone! Crafted for various applications and available in multiple sizes and features, drones are simply a man's new best friend. Whether you have it as an edgy tech gadget or to seize captivating landscapes aerial images, drone technology caters to all.
With aerial technology reconstructing traditional drone inspection techniques, get ready to fill your catalogues with multiple highly-equipped drones. You don't only invest in the drone alone, but their uncountable advantages. As a pricey investment, it is imperative to do your research and be well informed of the many drones available, and their functions, specifications, prices, etc.
HOW TO CHOOSE THE RIGHT DRONE?
As you skim through an overwhelming volume of drones, you must determine which is the ideal fit. They are available in nearly all sizes, price ranges, and characteristics, thus, making it essential to keep your requirements and expertise to fly drones in mind. Below are a few steps to consider before investing in particular drone technology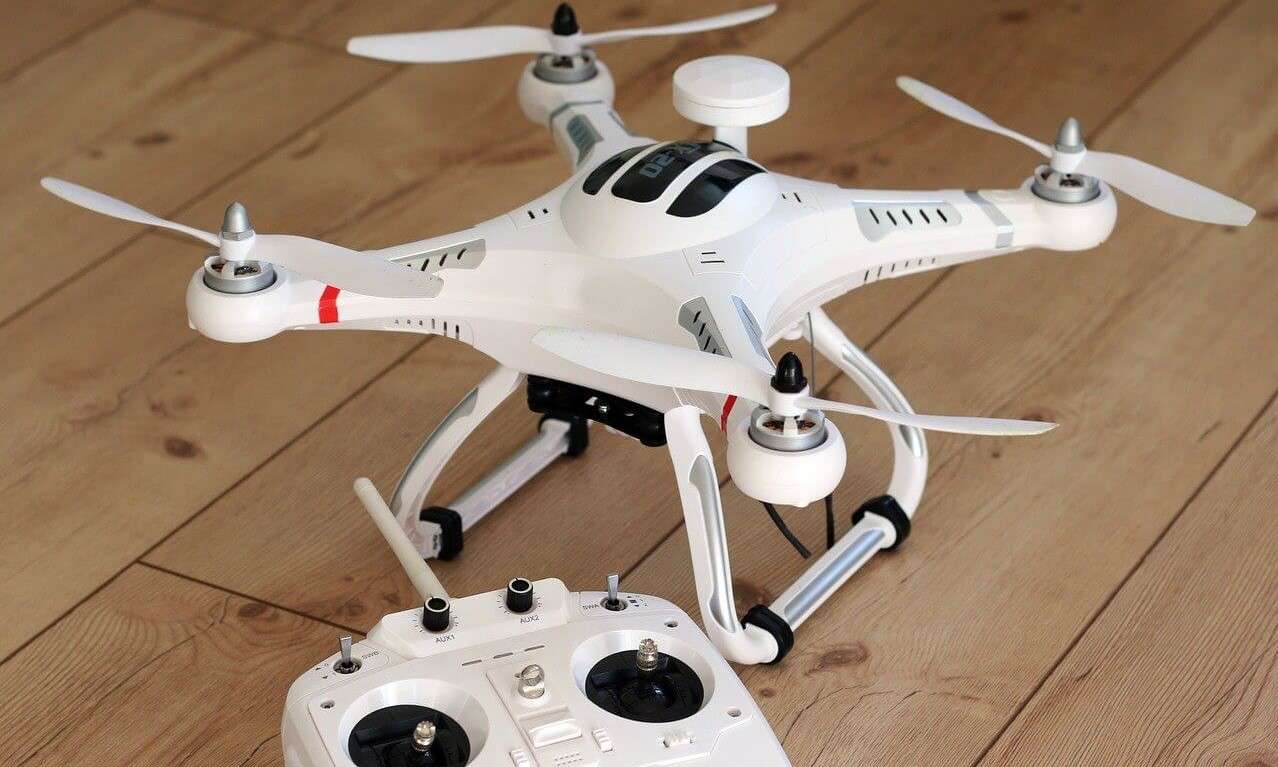 According to your purpose

- One crucial question to ask yourself before purchasing a drone is, "why am I buying this?". Since countless tasks can be carried out by drones, they are all crafted uniquely to fit several purposes. For instance, drones can capture varieties of photography and videography, do flips and tricks, operate indoors and outdoors, hold multiple sensors, etc. It would be profitable if you narrowed down your preferences according to the imperative purpose to dodge spending on additional features that are not required.

Level of skills you possess

- A primary step towards selecting the appropriate drone would be to realise your skill level accurately. Depending upon the drone's features, they can either be simple or challenging to manoeuvre. For instance, if you are leaning towards purchasing a drone as a tech toy, it would be suitable to choose drones that are economical and retain stable features. However, an intermediate or trained drone pilot can choose drones with high-level traits and still regulate it to its best.

Components required

- Diverse features accompany a drone to deliver varied performances. For instance, drones equipped with cameras may be of high-resolution, mediocre quality, or come with several types of controllers. Drones could be GPS-enabled, be of varying sizes, possess several copters such as a quadcopter drone, hold varied battery durability, etc. Your drone needs to highlight your primary aims, such as detailed high-resolution videos, or in-depth analysis etc.

Choose your budget

- Price is a fundamental element for purchasing decisions. The drone price varies to a considerable extent due to multiple selections in the market and their specifications. Finding the right drone that fits your budget and purpose would surely help narrow down several alternatives; however, the quality of the output should not be negotiated. The balance between quality and affordability is essential to sustain while picking your preferred drone.
BEST DRONE BRANDS
DJI models currently reign the title of the best drone brand, and here's why! DJI Drones offer a catalogue of products, price points, and features, which is why they are known to be well-established! With their iconic Phantom series introduced in the market, they now make the best mini drones known as Mavic series. DJI India's proline is its second generation introduction known as Inspire. Inspire models extend their functionality beyond what you get with a Phantom. They include dual-operator support, interchangeable lenses and camera modules, retractable landing gear, and countless more.
TOP DRONES IN INDIA
1. DJI MAVIC 2 PRO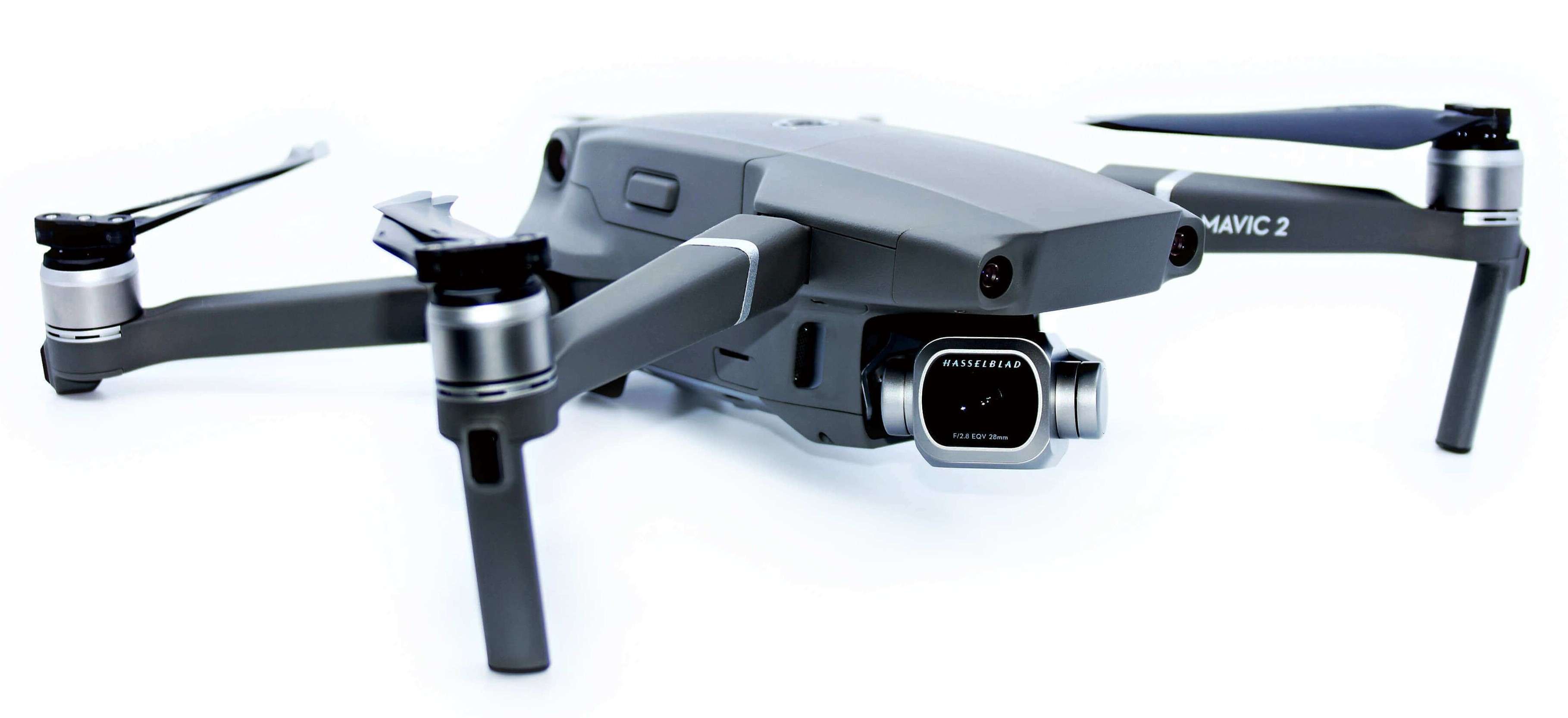 DJI Mavic 2 Pro Specifications:
Weight: 907g
Video resolution: 4K HDR 30fps
Drone Camera resolution: 20MP
Battery life: 31 minutes (3850mAh)
Max Range: 8km
Max Speed: 72kph
Rotors: 4
With the influx of DJI's Mavic Pro in 2016, this best drone camera in India has made it feasible to carry a high-quality lens without having to sustain its heavyweight. Reigning the title of being one of the top 10 drones in India, its prominent features make it ideal for aerial imagery. This DJI camera drone extends the quality of Hyperlapse - an aerial time-lapse including motion processed in no time. Furnished with sturdy motors, quick speed control systems, top-notch omnidirectional sensors and quiet propellers, the DJI Mavic Drone is as competent as any other larger drone. The DJI drone price in India on Amazon stands at Rs. 2,45,000; however, DJI Mavic 2 Pro Price in India is more expensive when compared to other similar models.
Pros:
Provides exceptional 4K/30 UHD video
20 megapixels Raw and JPEG imaging
10-bit (HDR) video
Foldable
Excellent battery life
Obstacle avoidance sensors
Cons:
No DCI format assistance
Inadequate internal memory - 8GB
High-priced
Link to Buy: Amazon, DJI Store, Flipkart, IndiaMart,
2. DJI MAVIC MINI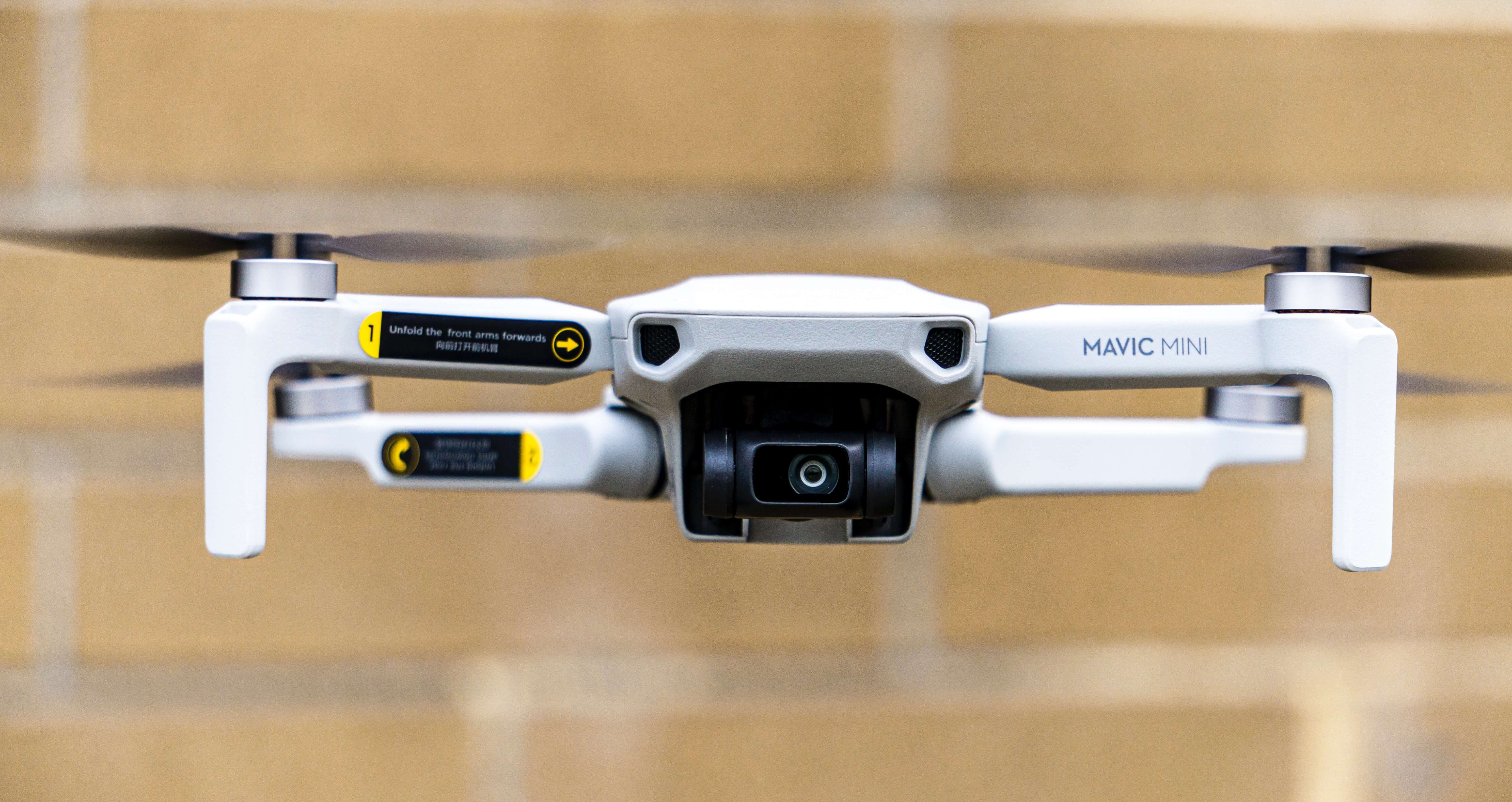 DJI Mavic Mini Specifications:
Weight: 249g
Video resolution: 2.7K/30fps
Drone Camera resolution: 12MP
Battery life: 30 minutes (2400mAh)
Max Range: 4km
Max Speed: 47kph
Rotors: 4
Embracing the privilege of being one of the best drones in India for amateurs, DJI has successfully managed to retain several key characteristics and cut down the size and weight for this design. This DJI camera drone has compromised on its video quality due to its compressed nature, unfortunately. This quadcopter drone is suitable for vloggers and Instagrammers due to its 'quick-shots' feature. DJI Mavic Mini price in India varies between Rs.35000 - 40000.
Pros:
DJI Mavic Mini Price in India is economical
Manual control
Extended battery life
Gimbal stabilisation
Automated cinematic camera actions
Obstacle avoidance sensors
Avails' find my drone' feature
Requires no federal registration
Cons:
No obstacle detection sensors
Doesn't sustain Raw/HDR images
Captures videos only at 2.7K, no 24fps video choice
Link to Buy: Amazon, DJI Store, IndiaMart,
3. DJI PHANTOM 4 PRO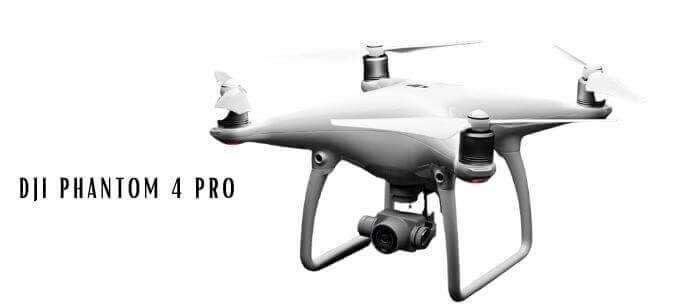 DJI Phantom 4 Pro Specifications:
Weight: 1375g
Video resolution: 4K at 60fps
Drone Camera resolution: 20MP
Battery life: 25 minutes (5870mAh)
Max Range: 7km
Max Speed: 72kph
Rotors: 4
Said to be ahead of unprecedented times, DJI Phantom 4 was one of the very first drones to star a gimbal-stabilised camera. The DJI Phantom 4 quadcopter is fitting for professional photographers and film-makers. It has been crafted to deliver quieter flight time and detailed 1080p videos displayed on monitors through its OcuSync radio system. It's no longer the prominent choice for beginners..The DJI Phantom 4 Pro Plus price in India is roughly Rs, 1,21,000. If you're looking for an ambitious investment in photography, the DJI Phantom 4 drone is the way to go.
Pros:
Extensive image sensor
Classic design
Subject tracking
Cons:
The size of the drone makes it heavy
For professional use only
Link to Buy: Amazon, DJI Store, Flipkart, IndiaMart,
4. DJI INSPIRE 2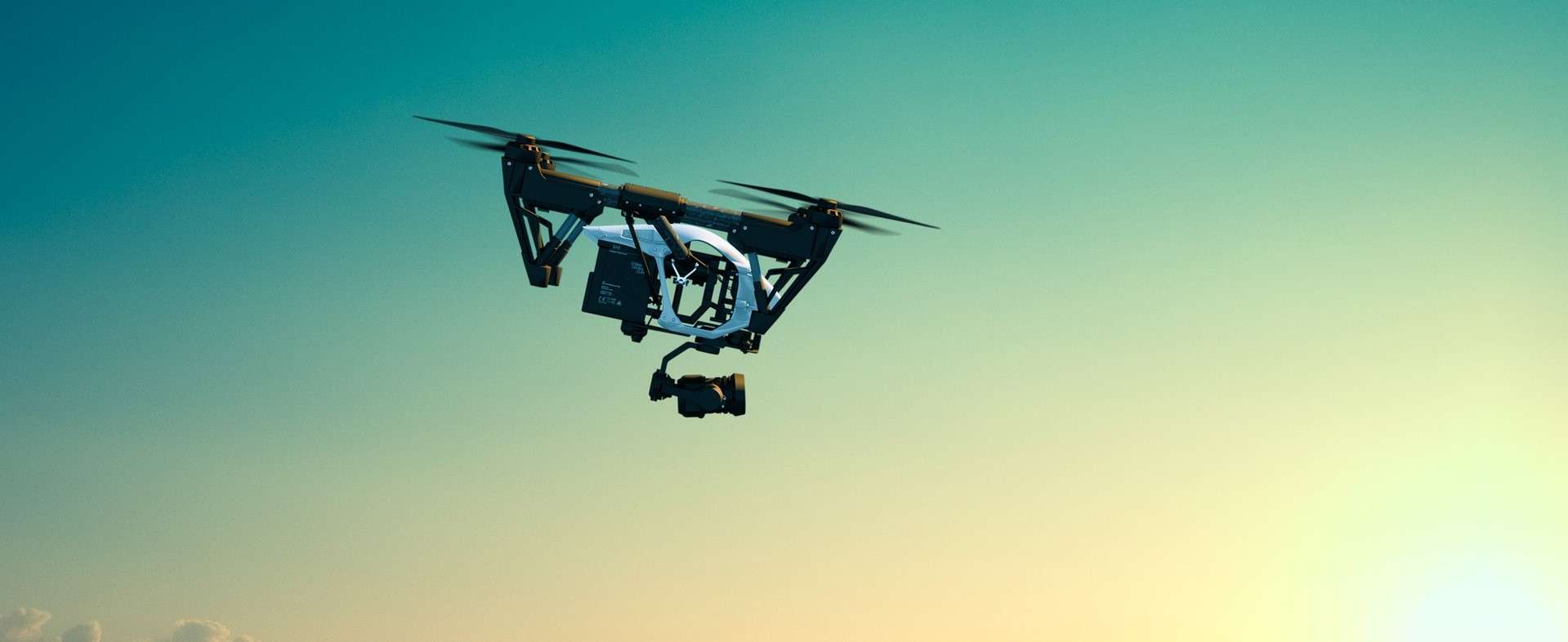 DJI Inspire 2 Specifications:
Weight: 4000g
Video resolution: 5.2k @ 24fps
Drone Camera resolution: 20.8MP
Battery life: 23-27 minutes (4280mAh dual battery)
Max Range: 7km
Max Speed: 94kph
Rotors: 4
The Inspire 2 has refined object tracking, multi-user operation, and additional pro characteristics not suitable for casual uses. The quadcopter drone has a magnesium-aluminium body that preserves the drone's sturdiness while sustaining a low weight. It is also the very first DJI drone to be equipped with two cameras. The downside to this model is that it requires both batteries to fly. However, the extra battery is in itself a whopping price, making this drone model highly expensive. DJI Inspire 2's price in India is close to Rs. 2,59,000.
Pros:
Magnesium-alloy build
Interchangeable lens systems
Obstacle detection
Retractable landing gear
360-degree camera rotation
Dual operator control with FPV pilot camera
Live 1080i broadcast
Cons:
High investment cost
The dual battery makes buying a spare expensive
High-performance computer needed for video editing
For Professional use only
Link to Buy: Amazon, DJI Store, IndiaMart,
5. AUTEL ROBOTICS EVO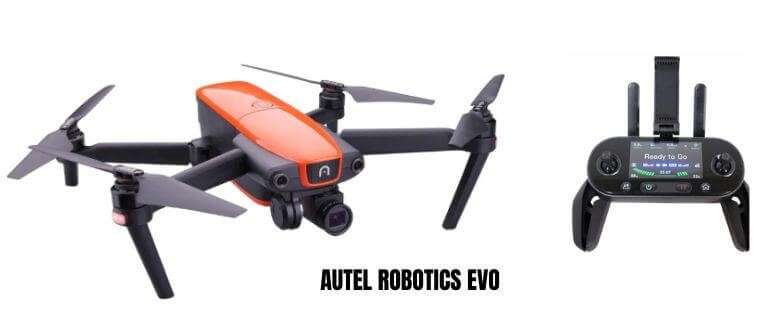 Autel Robotics EVO Specifications:
Weight: 863g
Video resolution: 4K 60fps
Drone Camera resolution: 12MP
Battery life: 30 minutes (4300mAh)
Max Range: 7km / 4.1mi
Max Speed: 72kph / 45mph
Rotors: 4
The Autel Robotics Evo Drone delivers celebrated videos from its 1/2.3 sensor. Along with its comprehensive collision sensing system, fitted binoculars for tracking and landing, several experts prefer Autel Robotics Evo Quadcopters over other models. It is outfitted with an OLED screen for FPV in the conventional remote and attached to your smartphone. The Autel Robotics Evo 4K drone supports both UHD and DCI formats. The Autel Robotics Evo drone camera's price in India is nearly Rs. 1,00,000.
Pros:
Compact - folding design
Stable 4K video at 60fps
Obstacle avoidance system
Solid battery life
Can operate with or without a smartphone
A sound collision sensing system
Cons:
About to be replaced
The default video profile appears oversharpened
Not many safety features
Link to Buy: Amazon, Autel Robotics, Ubuy, DroneNerds,
6. PARROT ANAFI FPV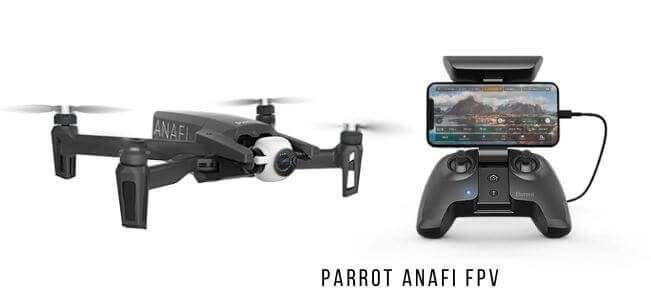 Parrot Anafi Fpv Specifications:
Weight: 310g
Video resolution: 4K HDR 30fps
Drone Camera resolution: 21MP
Battery life: 25 minutes (2700mAh)
Max Range: 4km
Max Speed: 55kph
Rotors: 4
Parrot was not as well-grounded as the other best drone cameras in India up until it launched the Parrot Anafi Drone in 2018. They have managed to preserve portability and drone cost along with the inclusion of essential characteristics such as a robust build, automatic take-off, GPS navigation, and well-built controllers. The Parrot Anafi 4K drone has also introduced first-person view (FPV) goggles for an enhanced real-time flying experience. The Parrot Anafi price in India is relatively more affordable than some of the other best drone cameras in India such as the Mavic Air by DJI. If you desire the best drone to buy for travel-related purposes, then Parrot Anafi FPV is your saviour!
Pros:
Portable
More affordable
Videos at 4K at 100Mbps including HDR
Extensive zoom features
Renders 180° vertical-turn gimbal
Cons:
Only has a 2-axis control
Additional charges for in-app features such as 'follow me modes.'
Link to Buy: Amazon, Parrot, IndiaMart, Trade India,
7. RYZE TELLO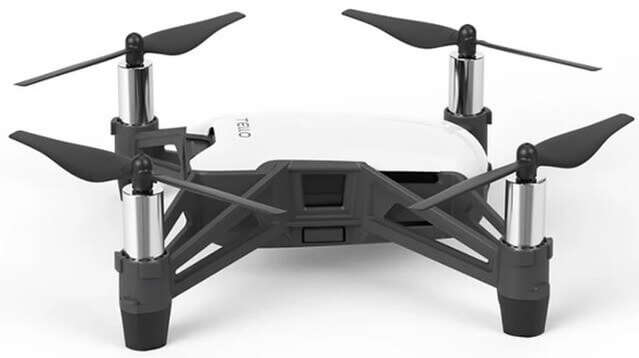 Ryze Tello Specifications:
Weight: 80g
Video resolution: 720p
Drone Camera resolution: 5MP
Battery life: 13 minutes (1100mAh)
Max Range: 100m
Max Speed: 29kph
Rotors: 4
The DJI Ryze Tello Drone is a microdrone with inclusive software and positioning sensor characteristics. Currently, in the market at a very economical price point of about Rs. 8000-9000, this drone camera price in India is unbeatable. With your Instagram channel craving an imaginative outlook, the superior image quality and straight-to-phone saving choice from the drone is convenient, isn't it? The Ryze Tello is controllable via your smartphone or laptop. However, it is essential to know that this DJI Tello drone has no GPS, no memory card, and no option to tilt the camera. Its video quality isn't excellent, but it's undoubtedly an enjoyable tech toy.
Pros:
Inexpensive
Easy to fly
Programmable from scratch
Bluetooth remote control compatibility
Automated flight modes
An excellent way to learn to code
Cons:
Relying on the phone to record images
Range rarely reaches 100m
Can't tilt the camera
Pixelated
Low-quality video
No GPS
Link to Buy: Amazon, DJI Store, Flipkart, IndiaMart,
8. YUNEEC TYPHOON H PLUS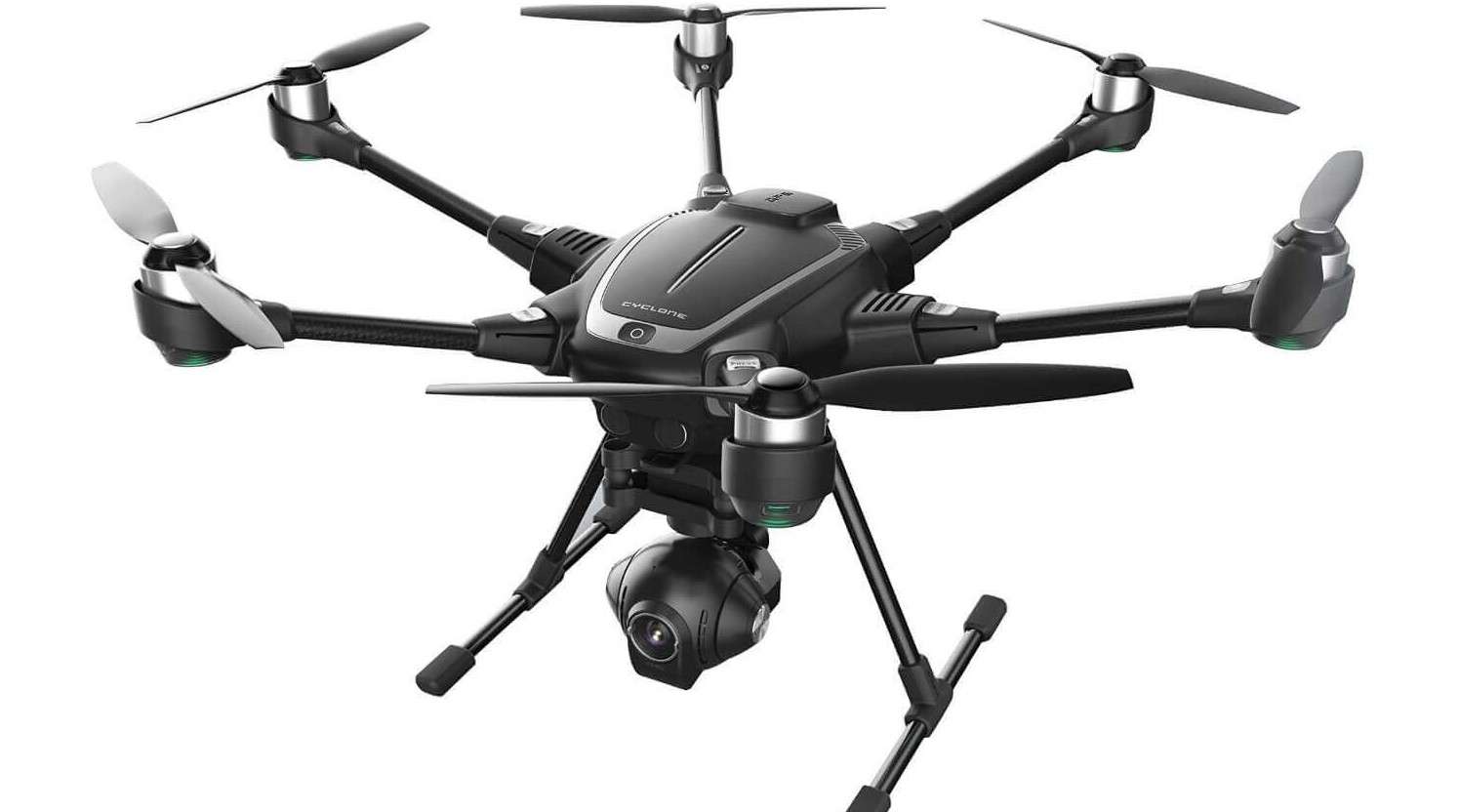 Yuneec Typhoon H Plus Specifications:
Weight: 1995g
Video resolution: 4K @ 60fps
Drone Camera resolution: 20MP
Battery life: 28 minutes (5250mAh)
Max Range: 1.6km
Max Speed: 49kph / 30mph
Rotors: 6
Reigning as one of the best drone cameras in India, the Yuneec Typhoon H Plus can see eye-to-eye with the Phantom. Its foundation is supported by a steady six-rotor frame which can remain operating even with one motor down! The Typhoon H Plus enables 360-degree lens rotation and includes components such as an Intel-powered collision avoidance system, object tracking software, a 7-inch screen on the controller, extra battery, etc. Yuneec Typhoon H Plus's price is approximately Rs. 90,000. A tremendous stable investment just likes its framework, don't you think?
Pros:
6-rotors
Intel-powered sensors
Programmable from scratch
Sunshade, extra battery and more supplied
Cons:
Control range
Range rarely reaches 100m
Controller grip not common for many
Batteries require a built-in monitor
Link to Buy: Amazon, Yuneec Typhoon, Ubuy
9. DJI MAVIC AIR 2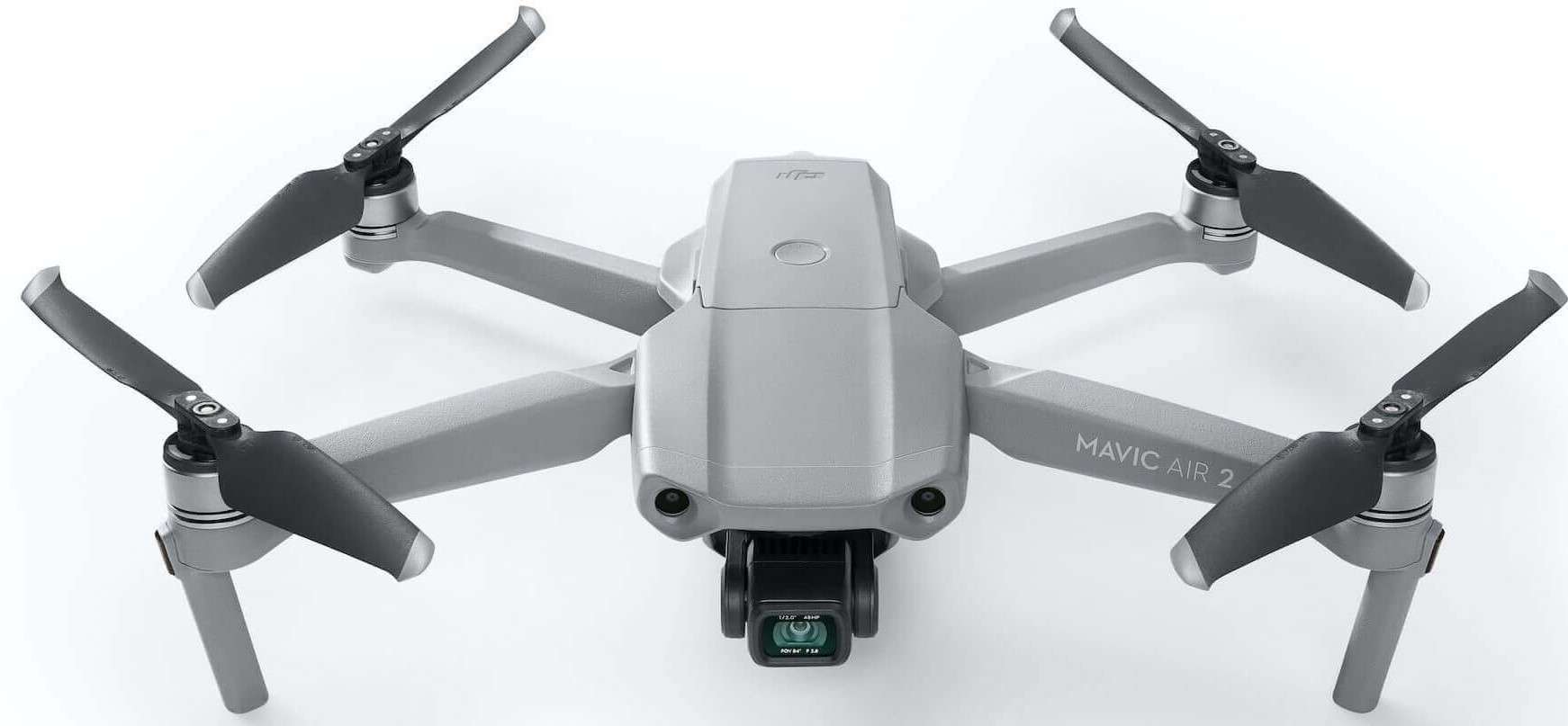 DJI Mavic Air 2 Specifications:
Weight: 570g
Video resolution: 4K 60fps
Drone Camera resolution: 48MP
Battery life: 34 minutes (3500mAh)
Max Range: 18.5km
Max Speed: 68kph
Rotors: 4
A premium introduction in the world of technology, DJI Mavic Air 2 is a favourite amongst the top 10 drones in the country. Built with front, downward, and rear-facing range sensors, the drone can recognise obstacles, notify the pilot, and simultaneously plot a route to dodge any obstruction as it flies. This best `'s high-resolution are captivating aspects that reel in numerous photographers and videographers. DJI Mavic Air 2's price in India is approximately Rs 60,900. If you're in the quest to discover the best drone camera for photography, this should surely be one of your prime picks!
Pros:
Portable
Extensive battery life
Redesigned controller for a smartphone
4K shooting at 60fps
Obstacle avoidance system
Cons:
No side or top sensors present
The app could be made more user-friendly
Not easy to get Raw images to a smartphone
Link to Buy: Amazon, DJI Store, Flipkart
10. DJI SPARK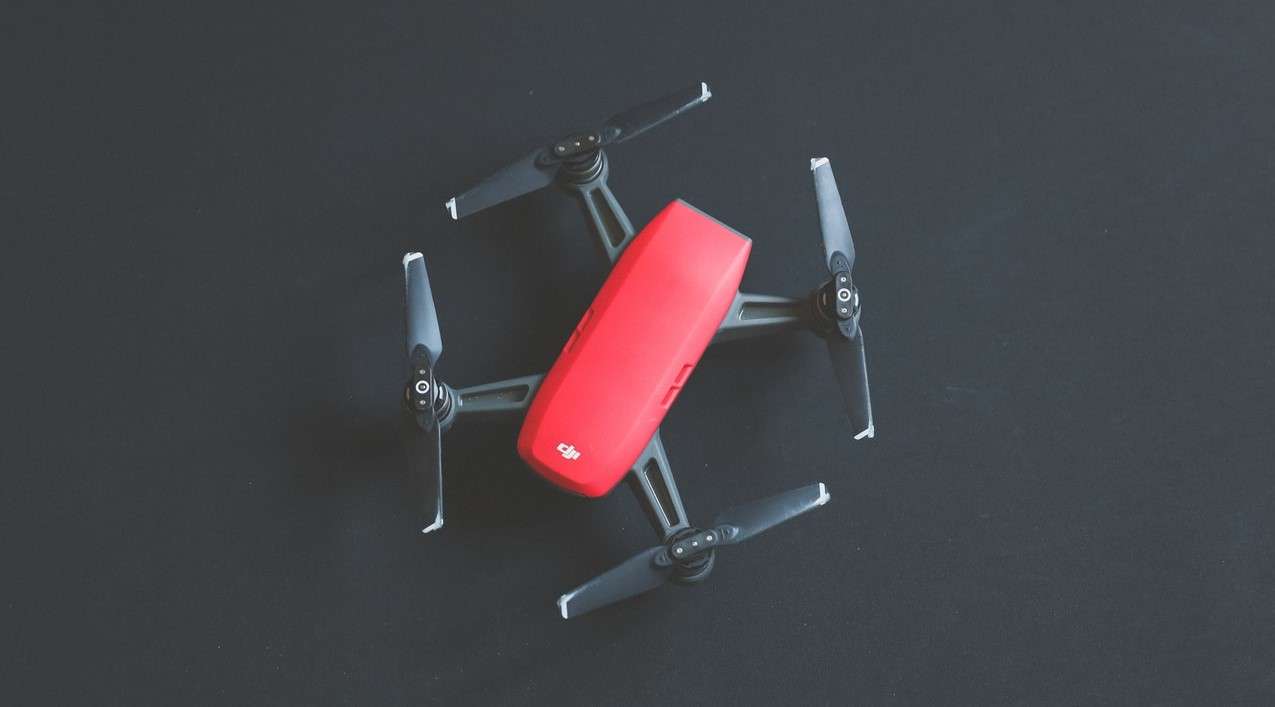 DJI Spark Specifications:
Weight: 300g
Video resolution: 30fps
Drone Camera resolution: 12MP
Battery life: 16 minutes (1480 mAh)
Max Range: 1.6km
Max Speed: 49kph
Rotors: 4
The DJI Drone Spark is DJI's smallest and most affordable drone, accompanied by premium features. Known for its gesture control tricks, these necessitate some time to be handled by a beginner. DJI Sparks India is a compatible drone for those who have been eyeing a drone but don't have the money or technical skill to pilot high-end equipment. This drone camera price in India is roughly Rs. 43000, a modest figure when opposed with other DJI drones! The professional drone camera price in India is economical, and with these features, it is awe-inspiring. You can even hold this drone in the palm of your hands! However, the main downside to the DJI Spark is its limited battery life of merely 16 minutes.
Pros:
Compact
Supports gesture controls
Smartphone-controlled flight
Tracking
Obstacle avoidance
GPS stabilisation
Safety Features
Cons:
The remote control is expensive
Limited battery life
Limited range and speed when controlled by a smartphone
Video limited to 1080
Link to Buy: DJI Store, IndiaMart
DRONE APPLICATIONS
Aerial Photography - With drone technology expanding its reach in several industries, drones capture images and videos that would otherwise demand pricey helicopters and cranes. Drones have executed a significant role in filming action movies, real estate, sports, journalism etc. to capture boundless and specific data from the sky.

Construction Industry

- UAVs are employed in this industry for site assessments, inspections, detection of the development of projects, tracking workers, deliveries, and logistical work as well. The data captured is often transformed into 3D models and maps for in-depth interpretation and planning by the architects.

Shipping and Delivery

- Big players in the market such as Amazon, UPS, and DHL have been using the best drones in India for delivery. Drone delivery assists in avoiding unnecessary road traffic and decreasing the human resources demanded. Quadcopter drones can transport small packages such as food, letters, medicines, etc. over short distances.
Geographic Mapping - With the ability to seize high-quality and authentic data, drones obtain information from coastlines, mountaintops, and islands. The data captured is also mirrored as 3D maps, and also extends to crowdsourced mapping purposes.
Precision agriculture - Farmers can utilise agri-drones for routine, affordable, and efficient monitoring of crops. Drones can recognise crop health that assists farmers in making an adjacent adaptation of resources accordingly. Multiple sensors crafted into UAVs enable farmers to make several beneficial farming decisions for higher productivity.

Search and Rescue

- Furnished with varied types of sensors; drones are proficient for locating misplaced persons or victims, particularly in challenging terrains. Drones that possess thermal sensors can monitor areas even at night, making them a handy tool in surveillance. Drones tailored to drop off stocks in unreachable locations help assist numerous predicaments in the world.

Weather Forecast

- Due to a drones robust formation, they are ideal for monitoring dangerous and variable weather conditions. They are often sent into hurricanes and tornadoes for weather forecasters to procure brand-new data of their behaviour. Various sensors obtain specific weather patterns, accumulate data, and prevent disasters.

Wildlife Monitoring

- A convenient and effective mechanism to keep poachers away, drones have guarded various animals like elephants, rhinos, and big cats. Thermal sensors allow them to monitor their patterns and behaviour even at night without inducing any disturbance.

Disaster Management

- After unfortunate catastrophes, drones allow the procurement of critical data immediately for data collection and navigation to identify wounded victims of the disaster. Equipped with high-definition cameras, multiple sensors, and detectors, rescue teams have a birds-eye view of the whole situation providing a close and in-depth inspection when contrasted with helicopters.

Entertainment

- Drones are utilised in cage matches in fight clubs in the entertainment business. Here, two competitors and their drones compete against each other and the damage and destruction of any of the competitor's equipment result in the other's victory.
Drone technology
Agricultural in India
Irrigation Monitoring
Locust Swarms